A Convenient Way to Pay Rent: Text-to-Pay
With text-to-pay, residents can pay make payments by sending SMS messages to the property. Residents must pay all outstanding charges when making payments through text-to-pay.
The following table lists text commands that residents can send to phone number: 85938 when they are opted in to SMS messages.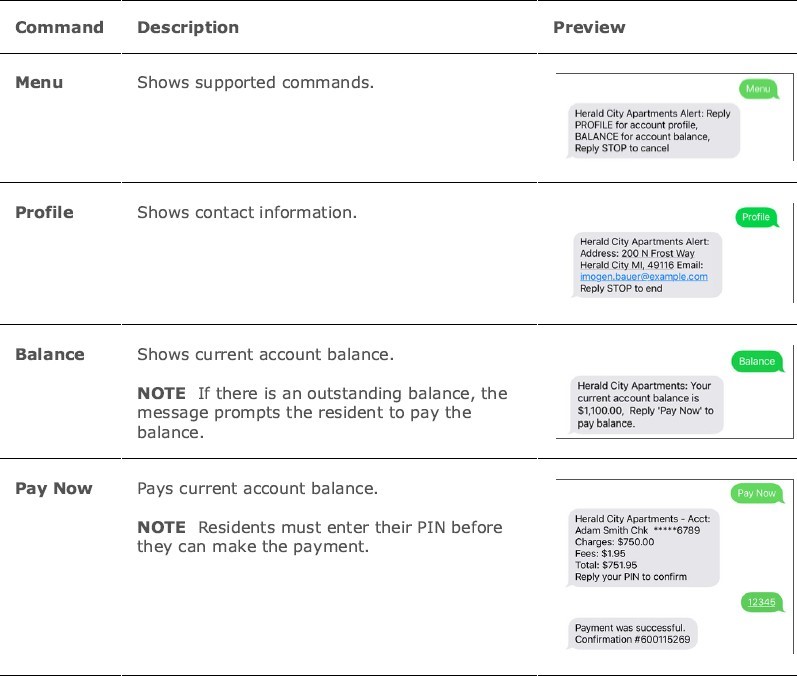 Opting in to text-to-pay:
When SMS features are enabled, the SMS alerts section appears on the resident services home page. Residents can opt in to SMS messages from the home screen to or from the profile screen.
1. Log onto your resident portal. On the right side of your resident home page, in the SMS Alerts section, type your mobile number.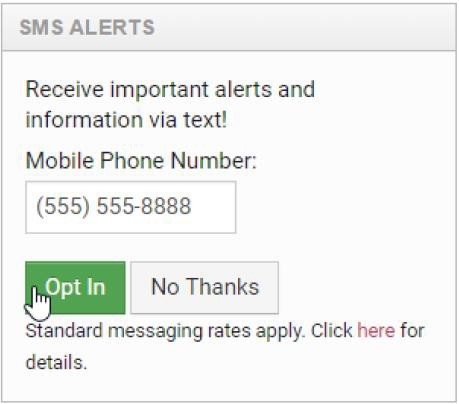 2. Click Opt In. A message appears asking you to check your phone to confirm opt-in to receiving texts.

Setting up a PIN and payment account:
Before a resident can use text-to-pay to make payments, they must set up a security PIN and select the payment account from which to make payments. Every time the resident pays their balance from their mobile device, they must reenter their PIN to confirm payment.
To set up a pin and payment account:
From the top menu, click the Profile button
In the User Settings section, in the row corresponding to Text to Pay, click Payment Accounts.
In the Text-to-Pay section on the Payment Accounts screen, enter a unique PIN (alphanumeric only) and select the payment account that is already set up in the resident services.

Cli

ck Save. You can now make payments by sending a message with the text "Pay Now" to 85938.

Testimonials
Great location.

- Verified Resident